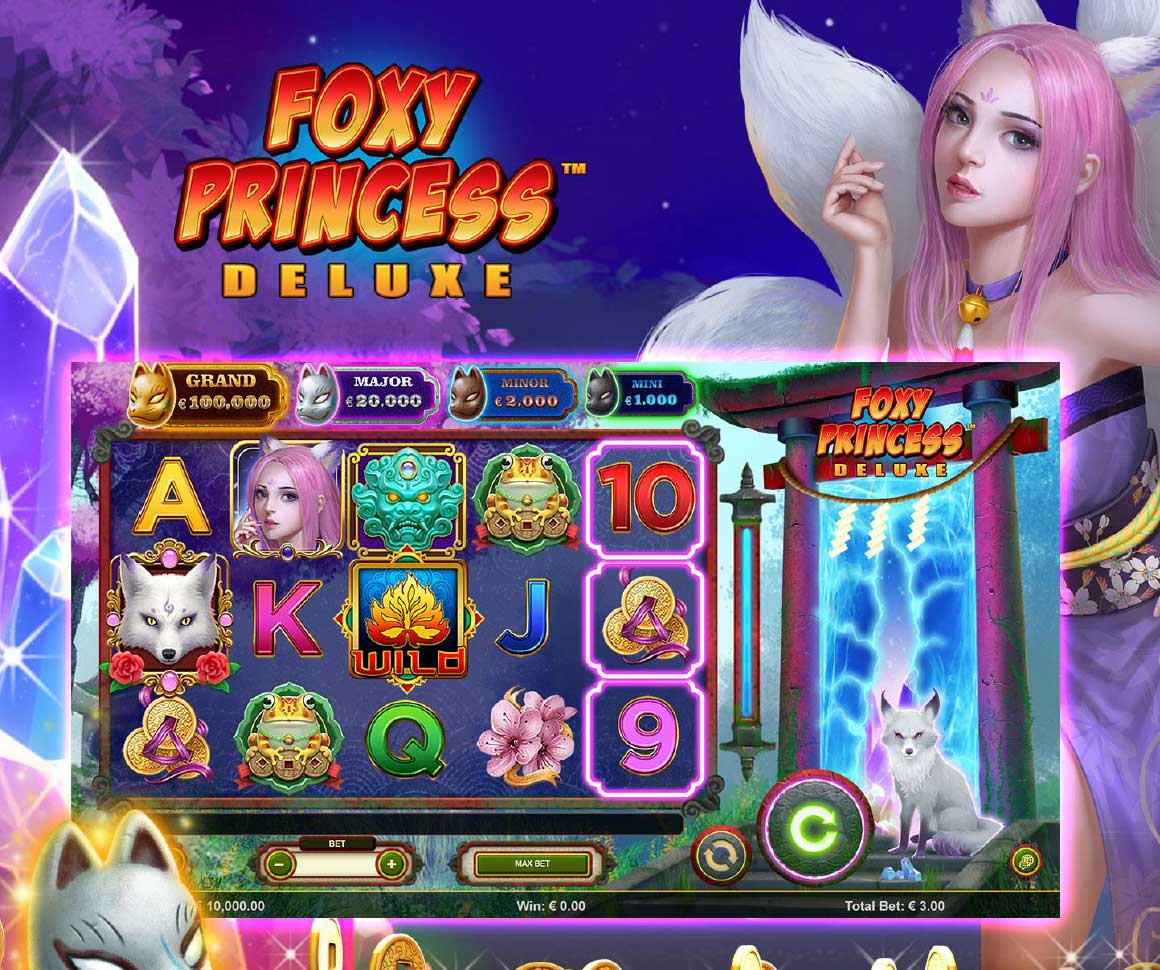 GAME INFO
Game name: Foxy Princess Deluxe
GameID: FoxyPrincessDeluxe
Release Date: 24th February 2022
Foxy Princess Deluxe is a high volatility and feature rich video slot games with a fixed 20 lines.
The Fox Spirit is a legendary mythical Eastern figure. She's also known as Goddess of Immortality that grows wiser and powerful as she gets older.
Legend says the Fox Spirit turns into Heavenly/Celestial Fox after reaching 1000 years and obtaining its final, the ninth tail, and ascends to heaven.
Foxy Princess Deluxe is inspired by Heavenly/Celestial Fox, the ultimate form of these Fox Spirits.
The gameplay features four jackpots that are awarded during paid games and free games bonus. The appearance of "Foxy Princess" symbols during paid games
may trigger 10, 15, and 25 free games randomly. During free games, the reels four and five are filled with WILD symbols only thus making it easier to win jackpots.
Not to mention, the appearance of "Foxy Princess" symbols during free games may trigger another spin (re-spin) with random WILDS appearing on reels two and three
making it possible for players to win up to 20 Jackpots!!

MATH
Layout: 5 reel and 3 symbols per reel.
Lines: Fixed 20 lines.
Pay order: N/A
RTP: 96.26%
Volatility: High
Min. Bet: € 1.00
Max Bet: € 300.00
GRAPHICS
Aspect Ratio: 16:9, responsive.
Theme: Realistic, Mythical, Oriental
FEATURES
• 5 Reels and 3 symbols per reel with fixed 20 lines.
• Free games bonus with re-spin and random wilds.
• Win up to 20 Jackpots during free games!

LANGUAGES & CURRENCIES
The full list of supported languages and currencies is available from the client area of our website

Link
Coming soon.